Article originally appeared on The Town Dish. By Morgan Paese.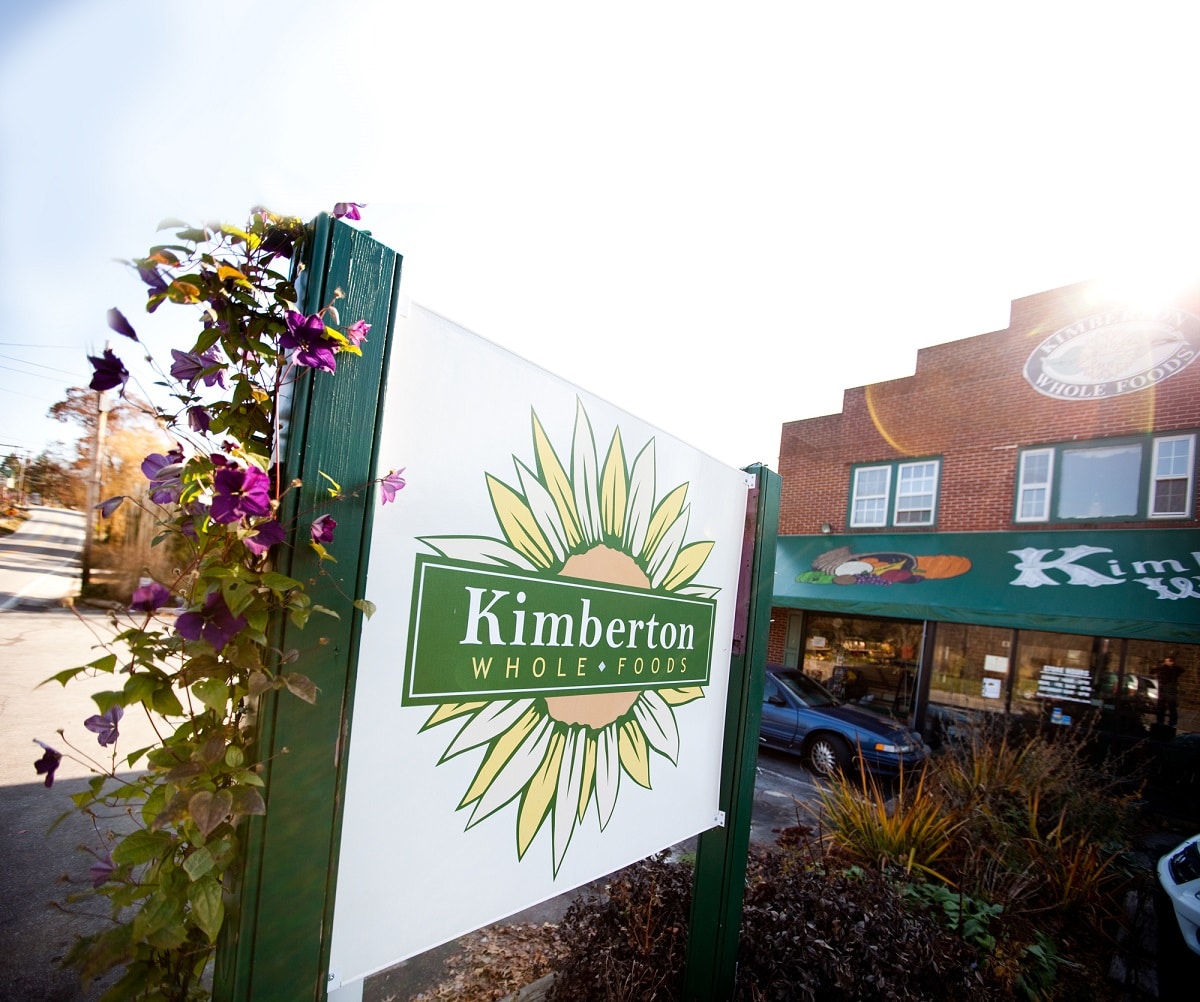 Situated in the historic village of Kimberton in what was once a hardware store, Kimberton Whole Foods is an independently-owned market bursting with organic produce, humanely raised meats, raw dairy, supplements and natural body care products. This flagship store has been rooted in the community since 1994, but its beginnings can be traced down the road to Seven Stars Farm.
Kimberton Whole Foods' founders Terry and Pat Brett worked and lived at the farm, which was known at the time as Kimberton Farms and was owned by the Kimberton Waldorf School. All five Brett children attended the school, which sits just across the street from the farm. Terry and Pat ran the farm store, selling yogurt produced on site. As the couple outgrew their space, they expanded into the hardware store in Kimberton, where they could better serve the community and a larger local network of producers. What began at Kimberton Farms is now a multi-generational family-owned business that serves six different communities.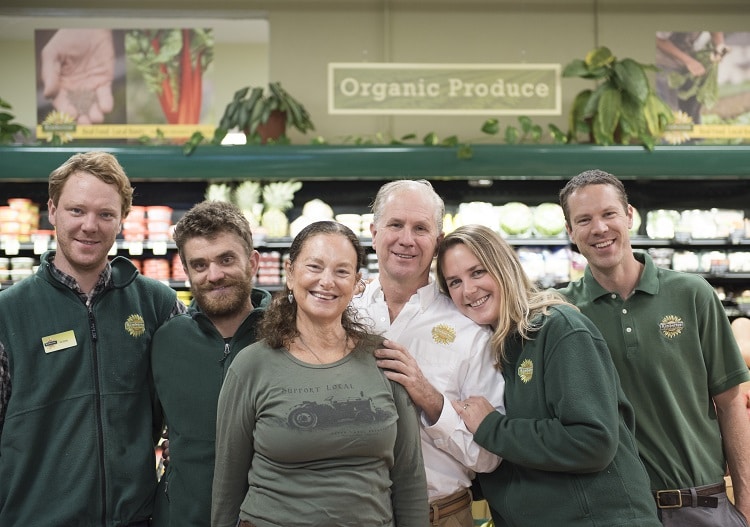 Whether you've been a customer for some time or are new to the Kimberton Whole Foods name and philosophy, read on to learn more about this cornerstone of the Phoenixville-area community:
The Kimberton Café
The eat-in café is a great meeting place for friends to grab a coffee or to share lunch together. The cafe offers quick bites prepared with wholesome and organic ingredients that can be found on shelves throughout the store, including abundant seasonal offerings in the produce department.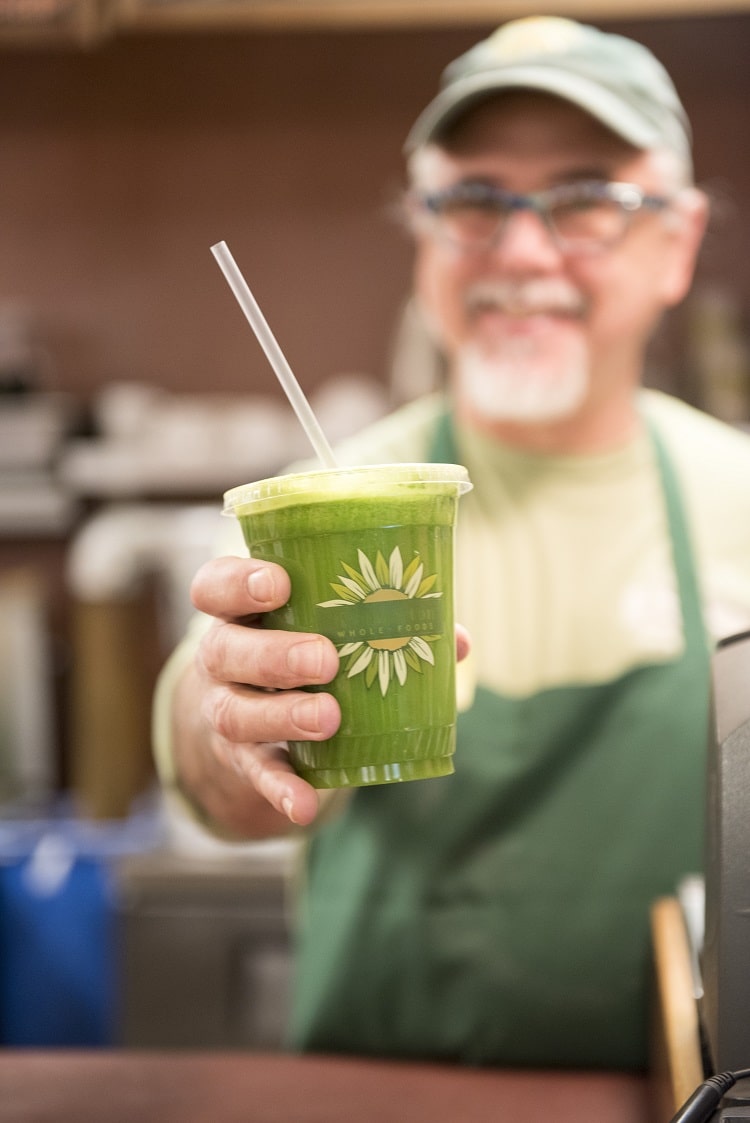 For a nutritious pick-me-up, try a fresh juices or a smoothie (we love the Awake & Alive, made with apple, kale, celery, lemon, ginger and cayenne), drip coffee or an espresso drink. Or, perk up with sparkling probiotic-loaded kombucha on tap, or a smooth, creamy pour of nitro cold brew, also fresh on draft!
All of the cafe's sandwiches are made-to-order — we recommend the Granny Griller, a creative twist on a classic grilled cheese with your choice of cheddar or swiss cheese, organic granny smith apples and honey dijon mustard on organic multigrain bread. If you've got a comfort food craving, the Prepared Foods Bar features a rotating menu of from-scratch fare. Meet up with a friend in the cozy café area or bring your tablet or laptop along, connect to the free WiFi and enjoy a quiet working lunch.
In a rush? The grab-and-go section features customer favorites like curried chicken salad or red lentil soup in a glass jar. Each ingredient is clearly labeled on the package for quick reference, so shoppers with food allergies or dietary restrictions can rest easy. Vegetarian, vegan and gluten-free items are available as part of the grab-and-go selections.
"Friend of the Farmer"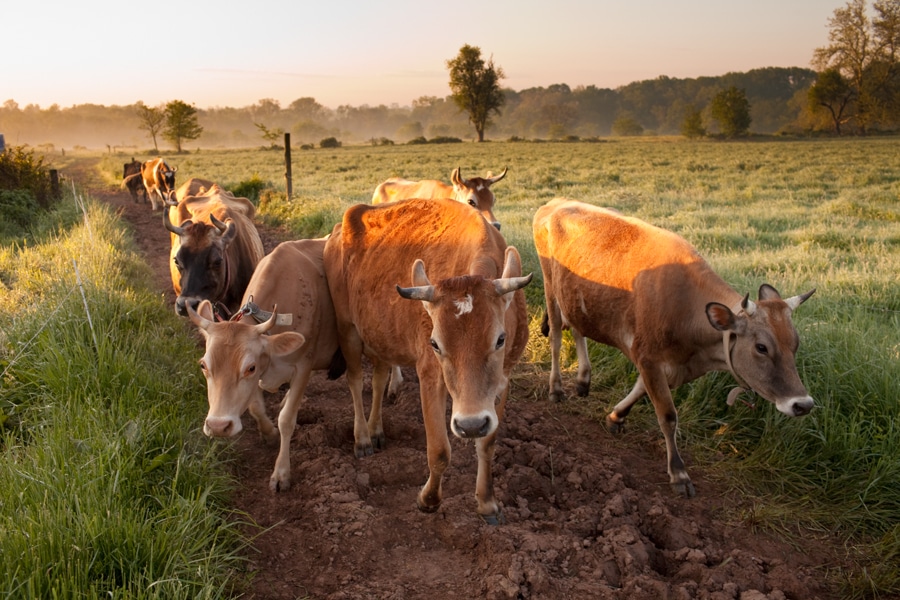 Inspired by its roots as a farm store, Kimberton Whole Foods partners with over 200 local producers in the greater Philadelphia area. In Terry's words, the store is a "friend of the farmer," helping to spread the word about these producers while assisting with distribution responsibilities. Farmers, bakers and brewers drop off their products directly at Kimberton Whole Foods, making it possible for them to get back to work quickly, reach a broader market and reduce their carbon footprint.
As the local agricultural and artisan economies grow, Kimberton Whole Foods is always creating relationships with new local farmers and producers — some new names on the shelves include Snouts & Sprouts, a small family farm focused on sustainable and humane meats located nearby in Pottstown, and Wild Creek Bee Farm, a sustainable honey business in Lehighton, Pa.
Organic Produce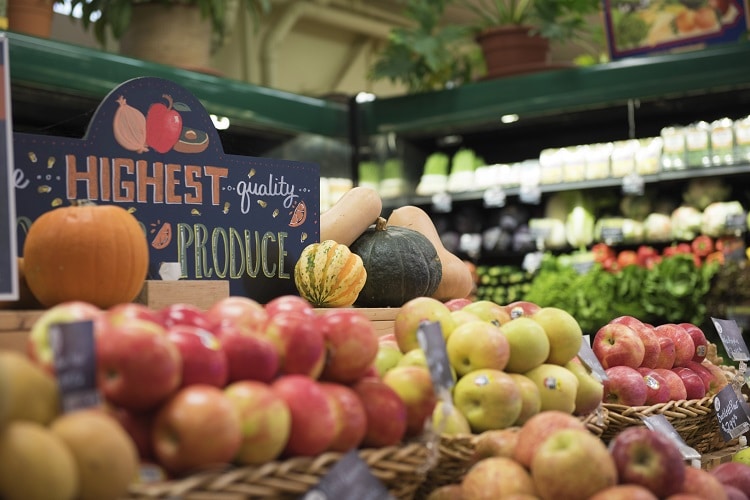 Nearly all grocery stores offer fresh produce, but fruits and veggies are not all created equal! Kimberton Whole Food's produce department is non-GMO and almost entirely organic, with the exception of a few varieties of fruits from local growers. What you'll find on the beautifully organized shelves is primarily organic fruits and vegetables, fair trade tropical fruits and heirloom produce from local farms — safe, wholesome, delicious food that you'll feel good about eating and sharing with your family.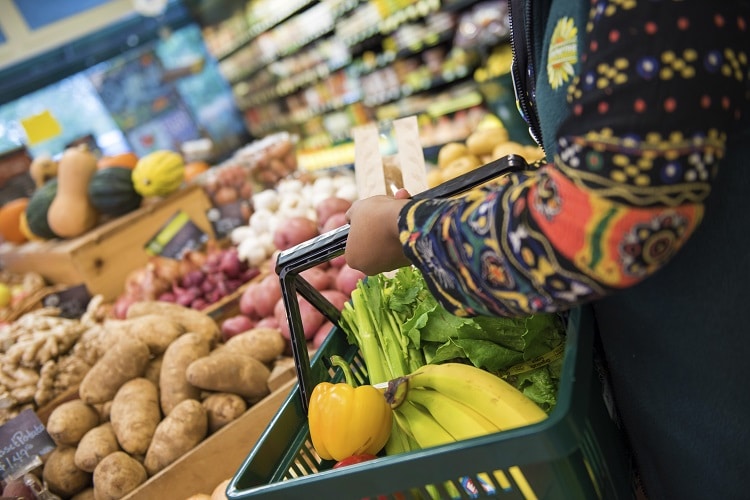 Apothecary
High-quality vitamins, supplements and body care products are an investment in your health and self care, and there's no one better to help you shop for these items than the friendly staff in Kimberton Whole Foods Apothecary Department. The focus in the department is on local, homeopathic and herbal remedies, with as many non-GMO, organic and whole-food choices as possible.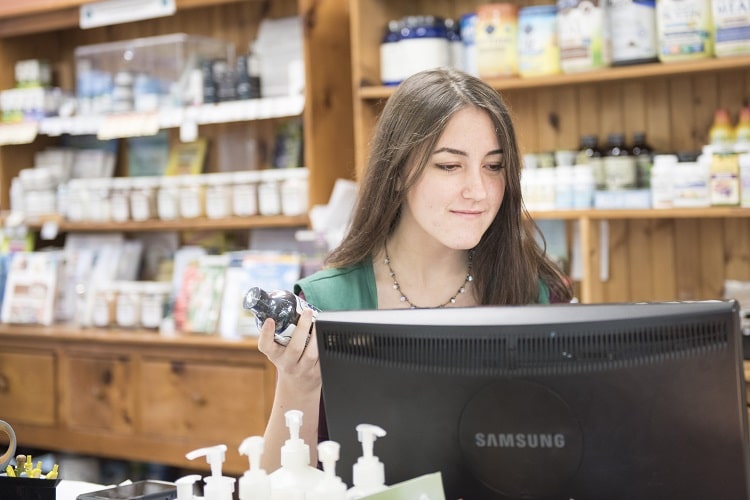 The apothecary team aren't just helpful — they're experts in their field, and they're always willing to go above and beyond to ensure that customers get exactly the right products for their needs. They're knowledgeable and up-to-date on the ever-expanding range of items that are being added to the store, and receive monthly hands-on training where company founders or representatives inform them about their products.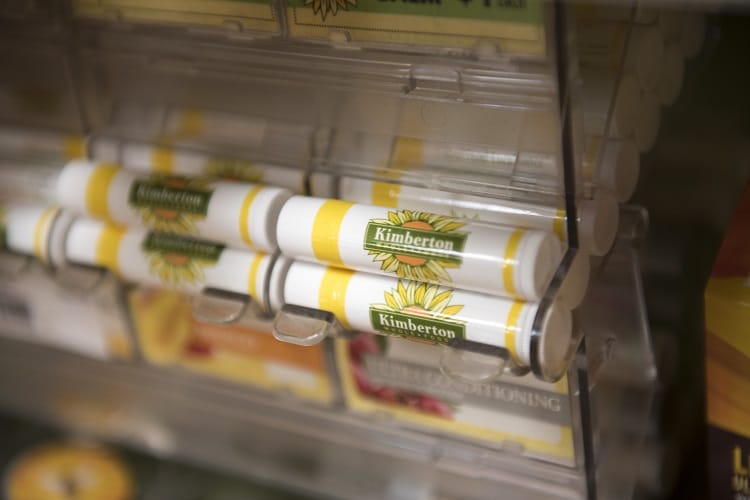 The Apothecary offers so much more than vitamins! Dental care, hair and skin care, cosmetics, essential oils, deodorant, shaving supplies, insect repellent and many more products await to help you take care of yourself and your family with safe, natural products. If you ever can't find what you're looking for, the Apothecary staff are happy to place a special order for specific products (at all KWF locations!). This benefit is not common practice at other markets or pharmacies.
Gifts Section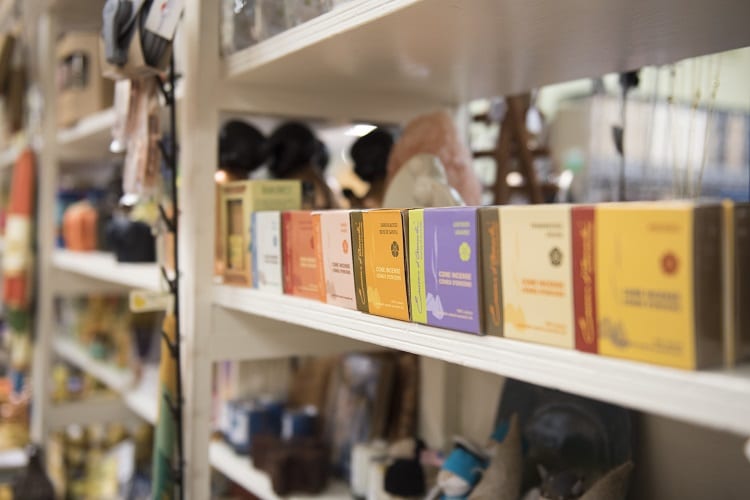 The shopping fun continues at KWF in its thoughtfully curated Gifts Department. No matter the occasion (or age of the gift recipient), you'll find a lovely variety of responsibly produced, organic, made-in-the-USA and fair trade items. Hand-dipped candles, artisan-made dishware, one-of-a-kind jewelry, ceramics, cookbooks, toys and more are sourced from facilities with fair working conditions and pay, with a focus on handmade products that use recycled materials or other eco-friendly manufacturing processes.
When it comes to locally-sourced gifts, we especially love the lavender soaps and candles from Hope Hill Lavender Farm, cutting boards from Oak & Olive (made right in Chester County!) and wheel-thrown mugs from Longacre Pottery.
Stop in and see what's new! Store hours are Monday through Friday, 8 a.m.–8 p.m.; Saturday, 9 a.m.–8 p.m.; and Sunday, 9 a.m.–6 p.m. The Café closes at 4 p.m. daily.
Find Kimberton Whole Foods and Café located at 2140 Kimberton Rd. in Phoenixville; phone: (610) 935-1444.
Article originally appeared on The Town Dish. By Morgan Paese. 
Storefront photo: Kimberton Whole Foods. All other photos: Ed Williams