Article originally appeared on The Town Dish. By Morgan Paese.
It's time to fire up the grill. If you're hosting family, friends or neighbors this summer, think outside the box and try adding meatless options to your menu. Your vegan friends will thank you!
With the increasing popularity of veganism as a dietary and lifestyle choice, the veggie burger has evolved. Tons of great companies are now making plant-based patties that are the perfect addition to your warm-weather menu. Because homemade veggie burgers can be challenging to grill, Kimberton Whole Foods is recommending some of its favorite pre-made patties, all of which are grill ready.
Don't relegate your vegan guests to a plate full of side dishes this summer. Make room on the grill for these 5 meat-alternative burgers that will satisfy even the most devoted burger lover. (And if you'd rather make your meal from scratch, Kimberton Whole Foods is sharing its recipe for a portobello mushroom burger your guests will be raving about all summer long.)
LUHV Black Bean Burgers
This local burger is bean-based and complemented with plantains and roasted poblano peppers. LUHV manufactures vegan and gluten-free foods with local, organic, non-GMO products from the Philadelphia area. The family-owned business, located in Hatboro, Pa., is committed to making veganism stress-free and accessible. KWF discovered this local product at the Philly Farm Food Fest in 2016 and currently sells it at all five locations. Gluten-free, vegan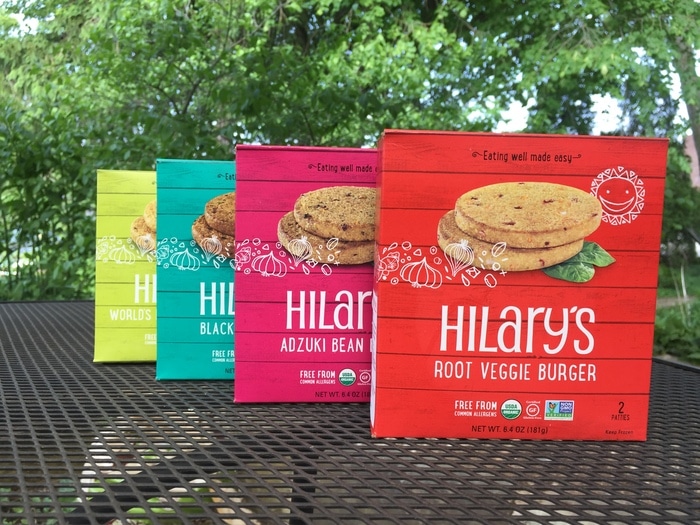 Hilary's is focused on improving the American diet by making healthy culinary creations that are convenient and easy-to-cook. All of Hillary's products are made with clean ingredients that are allergen-free and organic. Hilary's creates a variety of veggie burgers, and KWF carries the company's Adzuki Bean Burger, Black Rice Burger, World's Best Veggie Burger and Root Veggie Burger. Browse their website for drool-worthy recipes. Gluten-free, soy-free, vegan
Five Star Foodies is a family business serving up innovative flavors derived from quality ingredients and crafted in small batches. Five Star's veggie burger is made with artichokes, cashews and brown rice, which produce a rich, creamy texture. KWF carries Five Star's Original Artichoke and Artichoke French Herb burgers. The Artichoke French Herb burger enhances the original recipe with rosemary, lavender and other Mediterranean flavors. Gluten-free, soy-free, vegan
Beyond Meat has created a plant-based burger that "cooks, looks and tastes" like a ground beef patty. This one-of-a-kind product is designed to appeal to vegans and meat eaters alike. Beyond Meat aims to positively impact the planet by replacing meat proteins with tasty plant protein alternatives. Gluten-free, soy-free, vegan
Seattle-based company Field Roast creates wheat- and barley-based veggie burgers and veggie dogs. Field Roast created a new grain meat substitute using traditional grain-based recipes that originated in Asia. Old-world style veggie frankfurters start with fresh ingredients like garlic and onion and are finished with a simple cooking technique. The Field Roast burger competes with the real deal, exhibiting classic flavors that are perfected on the grill. Soy-free, vegan
Toppings & More at Kimberton Whole Foods
Top off any of these mouthwatering burgers with vegan cheese products you can also find at KWF. Created by Field Roast, Chao Slices are coconut-based and come in original, coconut herb or tomato cayenne. Parmela Creamery strives to re-create the classic tastes and textures of milk-based cheeses with its vegan nut milk-based recipes. Try cheddar, pepper Jack or American style cheeses, all of which are great for any backyard BBQ.
KWF also has gluten-free hot dog and hamburger buns made by Udi's, a 100% gluten-free company.
Whether you're headed down the shore or hanging out in the backyard, be sure to stop by one of Kimberton Whole Foods' 6 locations for all of your vegan-friendly cookout needs: Collegeville, (484) 971-6055; Kimberton, (610) 935-1444; Downingtown, (610) 873-8225; Malvern, (484) 324-2800; Douglassville, (610) 385-1588; and Ottsville, (610) 847-2419.
---
Article originally appeared on The Town Dish. By Morgan Paese.