Article originally appeared on The Town Dish. By Leigh Green. 
Stocking your kitchen with healthful and wholesome foods doesn't have to break the bank! Kimberton Whole Foods is just the place to get ahead on organized meal prep with its locally sourced products and budget-friendly weekly deals.
The team at KWF has shared seven ways to save big on organic produce, grocery items, household essentials and apothecary products.
KWF's customer-first approach includes frequently pricing products well below retail. As Norm Benjamin, director of purchasing for KWF, explains, "We are always seeking the best deals and negotiating the best price on the items that our customers value most. It's our practice to pass on all the savings to you. Our prices are below manufacturers' suggested retail, and every day, week and month you'll find thousands of deeply discounted items in support of our sales flyers and Everyday Low Price program."
Save more each week without skipping a beat with these simple, budget-friendly shopping tips from your friends at KWF.
Shop KWF's Monthly and Weekly Sales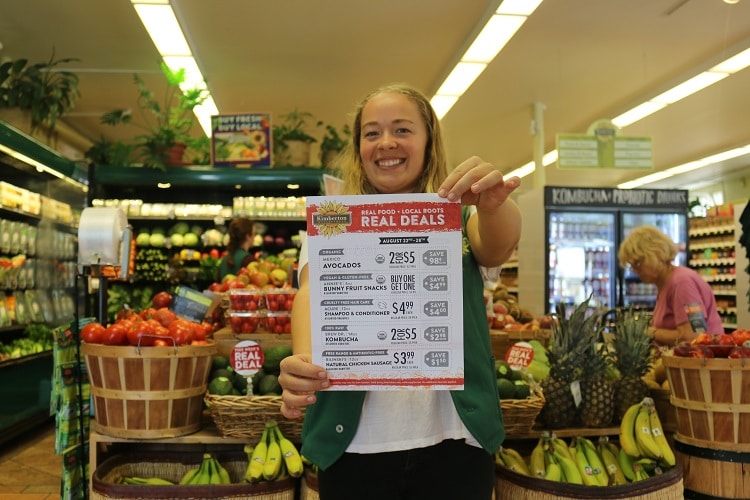 Kimberton Whole Foods dishes out both monthly and weekly sales, allowing you to load up on fabulous items at even better prices.
Check KWF's website for a look at each month's promotions, which always include reduced pricing on everything from staple items to special treats.
Also look for weekly "Real Deals" sales flyers, which offer deep discounts on customer favorites. Real Deals roll out every Tuesday and provide an opportunity for shoppers to save big on their favorites or to try out something new at a great price.
What's more, KWF maintains a superb Pinterest page that corresponds with the weekly sales. It's a fantastic source for creative takes on groceries and fresh produce, with recipes like spicy roasted tomato chutney, sweet corn ice cream and a 20-minute grilled jerk chicken with mango nectarine salsa. Autumn is sure to bring on a delectable set of apple-, pumpkin- and butternut-based ideas for flavorful eats and sweets.
On the Kimberton Whole Foods website, check out weekly "Real Meals", which are quick and easy recipe ideas that feature products from the weekly sales. 
Shop the Bulk Department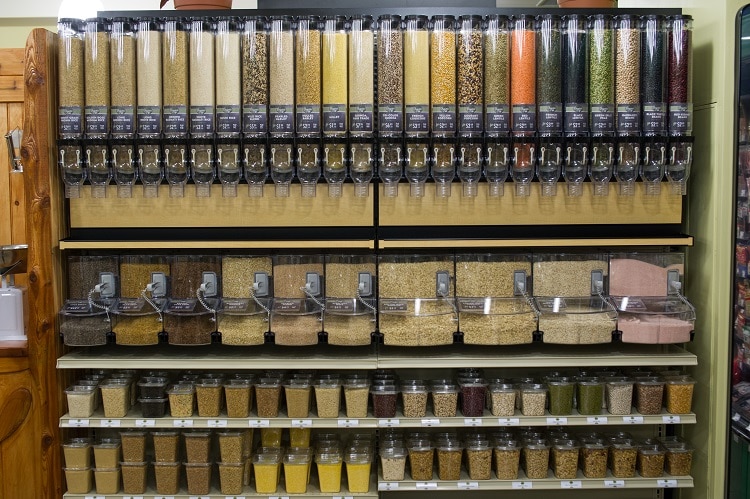 Buying bulk doesn't have to be bland. By loading up on legumes, grains, dried fruits, spices and herbs, you can stock your cupboards and pad your wallet at the same time. Bulk buying also helps to reduce the waste of excessive packaging, making it a beautiful, budget-friendly way to go green. You can even bring your own containers to fill up – just stop by a register first to get your containers weighed.
KWF shared a customer favorite recipe developed by Pat Brett, the grocer's co-owner and founder, along with her husband, Terry. This recipe incorporates bulk products into a delicious, filling granola, great for a snack on its own or atop a bowl of yogurt. Get the recipe.
Go for the Cadia Brand
Cadia, a value-brand line that KWF and a network of other natural, organic grocery stores share, allows you to buy organic products at highly affordable prices. KWF offers a large variety of Cadia products throughout the store, ranging from dishwashing soaps to sparkling water.
Instead of replacing other brands, Cadia is simply an additional option on the KWF shelves.
Look for "Everyday Low Price" signs or the Cadia logo to save on this array of organic and natural products.
Take Advantage of the Discount Bin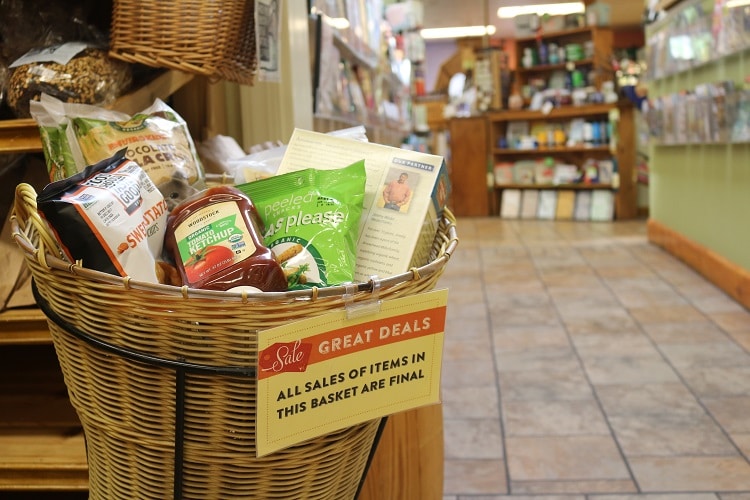 The discount bin at KWF takes many forms, depending on each location and the sales du jour. Sometimes a table, sometimes a basket, the discount bin offers a grab bag-style selection of products at tremendously marked-down prices.
The discount bin always includes an assortment of discontinued, short-dated or off-season items. Visit your local KWF's grocery and apothecary sections to check out what deals are in store for you each day.
Stock up on KWF Essential Oils and Supplements
KWF offers its own brand of essential oils, herbal extracts and supplements at affordable prices. This line of value-priced apothecary items runs the gamut from brain-boosting fish oil supplements to melatonin for supporting restful sleep.
KWF's online apothecary page offers up child-focused health tips, indexes of treatments for various health conditions, guides to homeopathy and weight loss and more. The KWF apothecary Pinterest board reveals clever methods for treating common ailments, as well as tips for stocking your own holistic home remedy kit.
For beginning and advanced herbalists and homeopaths alike, the KWF apothecary is a treasure trove for emotional, physical and spiritual remedies. With the Kimberton Whole Foods brand supplements line, you can feel good about treating yourself right at a price point you can afford. Learn more about the brand and KWF's recent visit to the supplier on the store blog.
Cash in on the Case Discount
Cut down on trips to the store for things like kombucha, beans or yogurt and save money at the same time. Nearly everything you see on KWF's shelves can be ordered by the case, making it a great way to get discounts on your favorite go-to items. Receive 10% off any product when ordering it by the case, and stock up to your heart's content. (Some exclusions may apply on local items and sale items ordered the last week of each month.)
Even monthly sale items receive the 10% discount, so by keeping your eyes on monthly discounts, you can really rack up the savings with case orders.
Keep in mind that some limitations may apply to weekly sale items, supplement and body care items. Check with a team member or call ahead to place an order!
Work for KWF!
Perhaps the single best way to save at Kimberton Whole Foods is by becoming a KWF team member. Check out the store's website to read more about career opportunities and the many benefits of being a part of the KWF team.
If you have a passion for sustainable practices and would love to work somewhere fast-paced and engaging, KWF might just be the place for you. As part of the robust benefits plan, KWF offers its full-time employees 25% off all groceries, with part-time employees receiving 15% off. Imagine just how quickly those savings could add up!
To get started on saving at Kimberton Whole Foods, sign up for the email newsletter and get the scoop every Tuesday on super deals the whole family can enjoy. Follow KWF on Facebook, Instagram, and Pinterest for news, events, sales and recipe ideas!
Article originally appeared on The Town Dish. By Leigh Green.