Our weekly Real Meal offers you a healthy dinner idea, using our favorite organic and all-natural products. (And featuring products from our Weekly Real Deals!) This week, try Bacon Wrapped Cod with Cara Cara Orange Salad. This meal is easy enough to enjoy on a weeknight, and beautiful enough to serve to guests!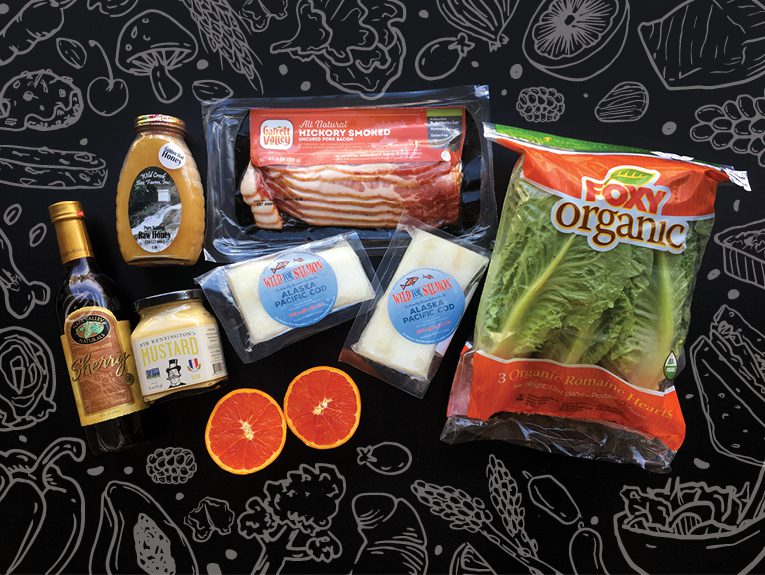 ---
Begin with two pieces of Wild for Salmon Pacific Cod (thawed). Cut each piece of cod into 2 pieces and season with salt and pepper. On a work surface, arrange 3 slices of bacon so they overlap slightly. Place a piece of fish at one short end and tightly wrap with bacon, cutting off any excess bacon. Repeat with remaining fish and bacon.
Segment a Cara Cara orange: reserve juice and segments.
Whisk together 1 1/2 tsp Dijon mustard, 1 1/2 tsp honey, 1 tbsp sherry vinegar, and orange juice; season with salt and pepper. Gradually whisk in 1/4 cup olive oil. Adjust seasonings to taste.
Heat a large nonstick pan over medium-high. Place fish, seam side down, in pan and cook until bacon is deep golden brown on all sides, about 9 minutes, turning partway through cooking. Toss 4 cups of chopped romaine lettuce with the dressing and grapefruit segments, and serve with fish.
---
Recipe courtesy of Martha Stewart.